---
Adult Fantasy Novel
DI Sara Nayar is not the bright young police detective she seems to be; she's actually a Hindu goddess living as a human after a dispute with her mother, the trickster goddess Mohini. When a man is murdered at Sheffield Castle Market, Sara senses that another god is involved– perhaps the Norse god Loki. But setting aside her divine nature has left Sara dangerously vulnerable. With the help of her partner, the attractive DI Michael Higgins, Sara must uncover both the human and divine reasons for the crime and protect the city she loves.
Set in a vividly realized Northern city, where gods coexist with a balance of faith, Goddess of the North is a page-turning urban fantasy steeped in multicultural mythology. A murder mystery at heart, it's an exploration of identity, love, faith, and the transformative powers of self-acceptance.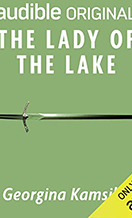 Audible Family Short Story
The Lady of the Lake (job description: hand out mystical swords to youngsters with potential) has her first dissatisfied customer. This humorous fantasy tale will appeal to anyone who has ever landed a glamorous job, only to find out that the gig has grueling requirements (in this case, confinement in a swamp and the company of wise-cracking toads.)
Written as an Audible original short story.
Short Stories in Anthologies